Already getting lots of brides booking for 2013 and many of them asking what are the new hair and makeup trends for 2013. Here's some ideas of the coming trends ;)
No Makeup Look
One of the biggest trends is the nude look – making it look like you're not wearing any make up.The trick is to highlight your best facial features with a bit of light contouring. The palette used consists of warm and natural tones, and it does actually use quite a bit of makeup on the face, but the blend of it makes the skin completely nude. This is a great look for modern brides with great skin and good bone structure. Other coming trend is to line your upper eyelid perfectly and leave the down eyelashes without mascara and any makeup.
Focus on only 1 Feature
If you're not comfortable to go all-naked, then you can take the new classy look of focusing on one feature only. If you have beautiful lips then highlight them and minimize the rest. Beautiful eyes? Show them off, but keep the rest of the face toned down with nude or pale pink lips and barely there blush. This is great for brides who like makeup but are looking for a contemporary look that will get them noticed. The other big thing is to line your eyes perfectly only from up and leave the the mascara off
The Unconventional Smoky Eye
More bolder brides will pick smoky eye look. The great thing about smoky eyes is that the possibilities are endless and there are so many unique looks you can create. 2013 is all about color!!! You can get smoky eyes with a colorful palette ( greens, purples and blue ) rather than going for the darker shades such as black or grey. This is a wonderful look for brides who are full of confidence and want to make a strong statement.
2013 SPRING WEDDING HAIRSTYLES
VINTAGE INSPIRED HAIRSTYLES
Timeless and romantic vintage styles will always be popular in the bridal world and as predicted an influence from the 1920s, 30s and 40s still continue.
VOLUME HAIRSTYLES
sky-high updos are bigger than ever for Spring 2013 :) I just love these modern beehives with thin headbands. (headband will be the bridal accessory for spring 2013)
BEAUTIFUL BUNS
Highly detailed variations of the bun as a big trend for bridal hair. A simple ballerina bun will always be a classic look, but buns created from a bunch of individual twists and intricate braids are the trend for this sophisticated 'do.
SIDE CHINGNONS
Another classic and popular bridal hairstyle is the side chignon. Paired with a deep side part, it's the perfect combination of sleek, yet messy and casual style.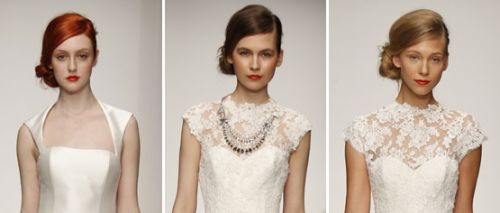 RELAXED AND ROMANTIC
Hair pulled away from face while looking a little windblown, even with a few flyaways :)